A couple of months ago I mentioned that I had entered into a little challenge with Iain Burt (aka Essex Boy) to try and drive the painting of our C18th ImagiNation forces. The first units were due to be finished today. In true Ayton style I decided to leave my unit until quite late on in the time allowed. Partly as I was away on holiday at the start and partly because I'm stupid. Needless to say, REAL LIFE suddenly reared its ugly head and scuppered all of my plans. So the end result was I only finished the 12 figures I had already started…
Now Iain (Essex Boy) managed to finish his unit off entirely! The Erbprinz Regiment done in his usual Gateway style using Spencer Smith WAS figures. And what style! Trademark EB consistency in style and the usual outstanding flags! Happy to concede Round 1 to these!
I fully intend to finish my unit and line up something else for the next challenge which finishes end of August. Of course, Real Life is still getting in the way and I'll likely be away for a couple of weeks but I'm sure I'll get something done…
The workbench is starting to look a little messy: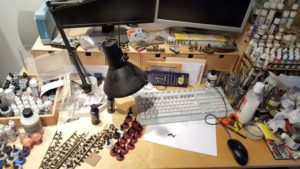 And my plans to clear my game table have stalled: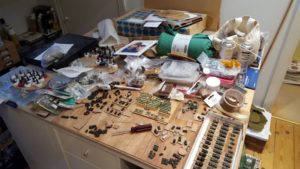 But I'll get there eventually!
Congrats again to Iain on a fine unit!