Today is my birthday. That gave me a little leverage in ensuring I could make it to Partizan this year! 🙂 What can I say… I've had an excellent day. This year Partizan moved to Newark Showground. I've always liked the old Kelham Hall venue despite the light issues in some areas and the maze of little rooms! It has character. But I can see the reason for moving and despite some trepidation about a move to another 'hanger' type venue (I really dislike the Donnington Worlds venue) this one is excellent. It's not too huge and soulless, the light is excellent and the space seems just spot on for the number of traders and games. I really liked it.
And the games on show were excellent! A fine showcase for the hobby both in display and participation games. I could have taken hundreds of pictures but in the end spent too much time talking so I only have a few of the games I sought out.
First up was Graham Cumming's C18th bash using his Crann Tara range. There are some lovely figures in this range and it was good to see a lot of them on the table:
Lovely figures…
A stone's throw from there I was finally able to say hello to Simon Miller (To the Strongest) who had a lovely game on show with beautiful figures again:
We'll be using these rules for our Newark Punic War bash at Foundry in November. Looking forward to this.
Bit of a break to the posting here as just been sat in friends garden down the street drinking copious amounts of gin! 🙂 Now where was I….
Battle of Short Hills AWI. By Steve Jones & the Newark Irregulars. 28mm. I do like a bit of AWI…
Next up was Levied Troop and the League of anti Alchemists. Calvados and Chips – 1944 France. SS Paras vs Americans with Chain of Command. LT's games are always nice to see. Lots of details, including, in this case, the bathroom sink!
It was good to see so many C18th games on. This one from Grimsby wargames with a 28mm Marlburian game. How can you not take a picture of that many cavalry in a melee!
And Grimsby wargames also presented a stunning Second Anglo Dutch naval game:
More C18th, this time 15mm and good to see a lot of Minifigs on display from… and at this point I was hoping to find this info on the Partizan website! [EDIT: And thanks to Richard Tyndall I now know this was put on by the Forest Outlaws!]
In many way this was the highlight game for me. Washing peg armies!
Next up the Bunker had an excellent Winter '79 game. Some lovely 20mm terrain and a good exampled of using stuff from various periods. This is a game I'd like to try but I feel it relies a lot on the terrain and I just don't have any!
There were a lot of excellent participation games. None if which I partook! 🙂 But some nice winter camo on display…
There were a lot more excellent games on display and I'm sure pictures will appear on many sites but these were ones that caught my eye.
But what is a show report without a haul! I had a few things to pick up at the show and few presents opened the day before with the family but this was the haul!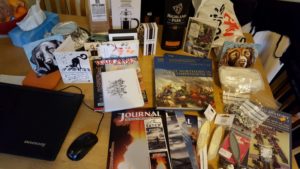 I'm slowly working my way through the Highland Park! And the chocolate…. But basically what you can see are..
Odds and ends of 10mm Pendraken League of Augsburg courtesy if Goat Major and Essex Boy
Foundry Norman command and Prussian Jaegers
Vallejo paints
The new Charles S Grant Refighting History book
Some canoes for my C18th Indians

I finally joined the Society of 20th Century Wargamers and May (depending on the freebies they gave out) join the Pike and Shot Society!
The latest Wargames Illustrated…
And finally, my big birthday treat, the recent 2 volume Great Northern War Compendium – which looks excellent!
Overall, a bloody good day and a bloody good birthday! I'm well impressed with the venue and look forward to next year
It was a good social event as well, seeing Iain B, Simon T, Dave H, LT, Ronan, Henry, Simon Miller, Phil O, Ian Willey, Olli, Shaun, Paul and lots more! A really good event.
Now, back to the Highland Park!