I've spent the last week re-vamping the eBay cavalry I bought and finishing a couple of odds and ends following the Newark game. When I re-did the Carthaginian command stands I took the two generals off their Cav(O) stands and added some standing figures to mount them on round bases. This left four Carthaginian cavalry so luckily I had a couple of matching unpainted figures so have painted those up to give me two cavalry stands. I tried to match the style (my 90's style!) but you can spot the new ones if you look carefully!
At Newark I picked up a few Minifigs ACW standard bearers that Iain (Essex Boy) and skillfully replaced the poles on. These were to add another command stand to my 'Iron Brigade' type figures. Flags are by GMB.
Last week I took delivery of some nice Minifigs Union Cavalry. Tidy 'wargames standard' paint job and a good price for 40 cavalry.
So, off the bases they came after a good soak. Odd chips were touched up and the peaks on the kepis painted black (the originals had obviously had a heavy blue dry brush!). And as they were lacking command I tried to paint a couple of command stands to add to them and match as close as I could. And based in my usual style.
I've also recently bought some snake fencing off eBay and the guy was happy to not paint and flock the bases so I could paint and flock to match my own bases. So sample one done: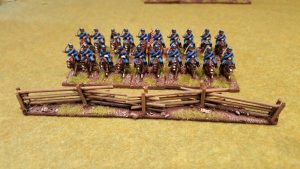 They are sold as for 15mm but I think are more suited to the 'new' 15mm/18mm rather than my old little Minifigs! They'll do though…
The final eBay unit was I assume meant to be Rush's Lancers. So these have been re-based and pennons added.
The figures 'seems' to be the same as the unit above with the carbines replaced by lances. It's a really nice figure but I'm not sure on the original Minifigs code. Would be nice to get a few more…
Here's some close ups of the new command stands:
And this is the final little brigade!
Quite pleased with them really. I now have some dismounted versions to do as to be honest they will likely see more use on table!
And Saturday is the Battleground Wargames Show which I am rather looking forward to. Nothing desperate to buy but looking forwards to a good natter!